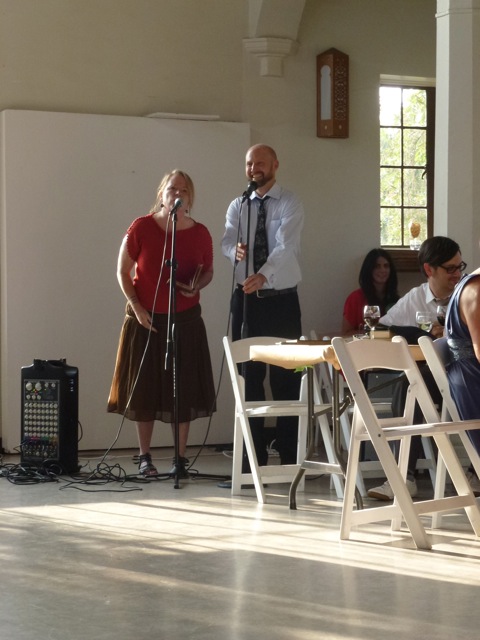 Kelly & David
Kelly & David
Kelly and David was a collaboration between myself and David Jones.  We started working together as artists/friends who wanted to be in a band.  Our band went through many name changes:  Hightower Wrecks, Four Skulls and finally, Feather Early.  We were a trio with Dara Dworman on drums.  We made a seven inch, Dara made a music video and we started working on an album, but we disbanded in the middle of recording. We also made music for artist Michele O'Marah's videos–Valley Girl, White Diamonds/Agent Orange, Peacehead.
Dave and I kept the collaboration going, determined to complete an album.  We started sounding more folky and as we were working on the album, performed as a duet with Dave switching over to the acoustic guitar.  In 2006 we put out a full-length Kelly and David as the Twilight Auguries.  Next, we decided to write a folk-rock opera, Contraption Spell, which we produced and performed for the REDCAT Theater's New Original Works Festival in 2007.
Bettina Hubby of HubbyCo designed our costumes and we had such a great working relationship that we worked with her on two other projects–producing an accapella chorale piece, Untitled Feather Chorale No. 1 for Hubby's CoTour  in 2008 and composing an original wedding march for her Get Hubbied in the fall of 2011.
We also composed an original sound and music score for Faustus's Children, a collaborative video work between Michele O'Marah, Tim Jackson and Dave, performed at REDCAT's Fall Studio and created a sound installation for Outpost's Intersection.
Currently, Dave is producing really amazing short animations as Jonesy. One of his recent pieces, Beauty Must Suffer, for which we worked together again on an original music score was screened at the Hammer Museum.